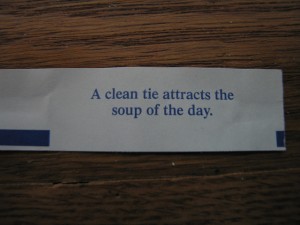 Here are 25 spot-on axioms (an axiom is a premise or starting point of reasoning, according to Wikipedia. I had to look it up) for workers' comp, written by William Zachry, the Vice President of Risk Management for Safeway Inc. These aren't words to live by, or fortune cookie motivational comments. These are the facts that every person involved with Workers' Comp should realize.
Five of my favorites:
The right medical care at the right time is always in the best interest of the injured worker and almost always will result in the lowest claims costs.

A fee-for-service system may result in incentives for physicians to over-treat, inappropriately.

Poorly (inappropriate) placed incentives will result in poor medical outcomes.

Every patient looks like a good candidate for an MRI when there is an MRI machine in the doctor's office.

Patient advocacy does not always mean the pursuit of treatment a patient desires.
Read the whole list over at 25 Axioms Of Medical Care In The Workers Compensation System | Insurance Thought Leadership and let me know what your favorites are. Or add a few of your own!