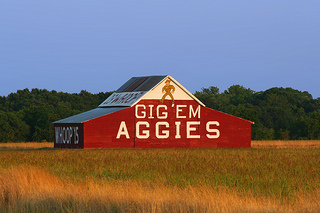 The U.S. Occupational Safety and Health Administration has issued citations to the companies responsible for the building collapse at Texas A&M this summer. Four workers were injured and two construction companies face serious violations.
The collapse was at the Texas A&M Equine Complex, an $80 million undertaking. A 300-foot tall steel frame structure fell when a worker released the rafting from a crane before the bracing was properly in place. When the rafter was let go, the building racked and fell to the ground.
The injured men worked at Ramco Erectors, the subcontractor hired by Gamma Construction Co. who acted as the general contractor for the project. Ramco was fined $40,500 for seven violations, including not providing a safe work environment free from recognized hazards. They did not inspect their rigging materials to meet the expected standards, which led to a faulty safety latch in the sling used to lift rafters. They did not ensure fall protection components and did not provide a site-specific erection plan.
Gamma received a citation for failing to maintain structural stability, since they did not replace essential rigging materials.
The complex has been under construction since October of last year and is meant to be a large enough area that clubs, academic programs, teams and other associations could gather to use the facilities. The building is located about a mile from the main campus, so thankfully it was not as crowded with students walking nearby.
Ramco had received 15 violations from OSHA before this incident, seven of those were serious. Gamma had been cited for seven violations as well, three of which were serious.
The injured workers have thankfully recovered but it is still a scary situation. The two companies involved had been cited before which is even more alarming. It worries me that repeat fines and violations, and now critical injuries, don't seem to be enough to make them step up their safety precautions.