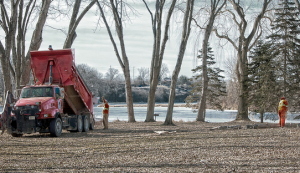 The Department of Labor & Industries out of Washington has cited one state business for several safety violations and slapped them with hefty fines after one of their workers died last summer.
Bradley Hogue was just nineteen and was working inside of a "bark-blower" truck at a home when he was killed by the rotating auger in the hopper. His company, Pacific Topsoils, now faces fines up to almost $200,000.
The investigation from the department found that this company routinely asked their employees to clear jams in the trucks while they were still operating which is a very dangerous activity. Workers could get caught up in the floor's conveyer belt, the rotating augers and another rotating stir rod. All of these things could cause severe injuries or be potentially deadly if workers got caught and crushed. They are supposed to have procedures in place to ensure they are turned off and don't inadvertently turn on when workers are in them. This employer did not ensure those procedures were used and they did not train their employees on the procedures, both willful violations.
The company was also cited with 14 serious violations, having to do with "confined space" work violations. They will have to face follow-up investigations in the future to make sure they do not revert back to dangerous practices. After his death the Labor & Industries department issued a warning to other area landscapers about the dangers of these hoppers, especially when the vehicle and equipment are still running.
A representative from the department says that he hopes this will serve as an example to other businesses so that other workers do not suffer the same fate.