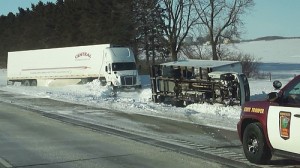 In Arkansas a bathroom break is considered a necessary function of an employees work hours as it advances the needs of their employer.
A truck driver who was transporting mail had an eleven hour drive between locations.  He was required to stop every two hours to do a walk around of his vehicle per company guidelines.  He was also permitted to stop for food and bathroom breaks as needed.  While pulling off a road to make a pit stop he was rear ended by a tractor trailer causing injuries to left knee, right hip, and back.
At the scene the driver told state troopers that he was stopping to get cigarettes.  He later added that he would be using the bathroom, and doing his scheduled walk around.
Courts found that the driver was injured while doing the functions of his job and will be granted workers comp.  At the time the accident had occurred the drivers truck had not left the roadway he was merely slowing down to make the turn.  The employer attempted to argue that he was stopping for cigarettes and that was not a valid reason for stopping.  The courts ruled that his stopping was also consistent with using the restroom which directly or indirectly advanced the needs of the employer.
I absolutely agree with the courts ruling here.  Truckers drive all day and night, they need to get out, eat, use the restroom, or sometimes just stretch their legs.  As long as their load is making it to the destination on time they should be entitled to receive benefits of WC in my eyes.  Truckers are what keep this country moving, without them we would not have a ability to purchase all the things we do.
Source: WorkersComp Forum