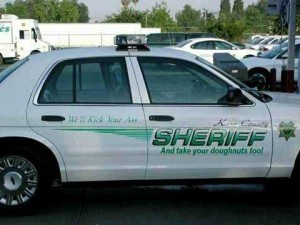 Michael Carona who was dubbed "Americas Sheriff" during the 2002 kidnapping and murder of 5 year old Samantha Runnion by Larry King has finally settled two workers compensation cases.
He has accepted $22,165 for injuries sustained in 2005 when his cruiser slammed into another vehicle.  He has also agreed to receive $15,510 for wear and tear during his career.
In 2009 Carona was sentenced to 5 1/2 years in prison convicted of felony witness tampering.  He also still continues to collect more than $218,000 a year in pension.  It bothers me how he can commit felony crimes, be sentenced to prison and yet he can still collect his government pension in such an incredible amount from his prison cell.
To read more on this jailbird fly over to claimsjournal.com.