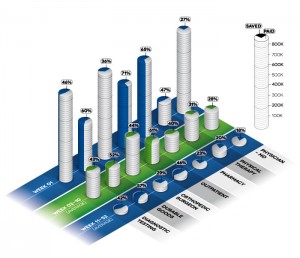 In Acrometis' latest Strength in Numbers, Acrometis analyzed 80,000 workers' comp medical bills processed through its CLAIMExpert claim processing platform and revealed that all too often, payers attention to control costs are focused on spending areas that occur too late in the overall claim and miss big savings opportunities from expenses which occur in the first week after the injury.
The infographic categorizes submitted bills and what was actually paid by category and data of treatment after injury. What was uncovered was the disconnect between where network savings are focused and where medical costs occur.
Give the report a read to learn more about the timing of medical costs and relative savings. It opened my eyes.