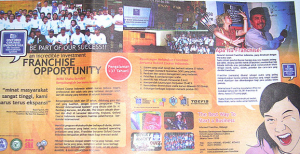 Today's case comes to us out of Washington, where the owner of a janitorial franchise company was found to be responsible for their franchise owners as employees if that franchisee had no other employees.
Lyons Enterprises Inc. is a company who distributes a franchise name called Jan-Pro, a janitorial service. Franchisees can buy into the "Jan-Pro System" and do the cleaning, but the customer's custodial contracts are with Lyons who is also in a contract with each franchisee. Each franchisee pays for the right to use Jan-Pro's brand and Lyons' business support, and they pay 15 percent of their gross billings to Lyons. Lyons works on their behalf to get them clients and owned the contracts.
A franchisee is still its own business though, and they have to pay Industrial Insurance Act (IIA) mandated workers' comp premiums for any employees. Lyons pretty much stays out of their way when it comes to cleaning sites.
When Labor & Industries audited the Lyons business in 2005 they found that two of their franchisees were not really "independent contractors" but were in fact employees. And were the IIA responsibility of Lyons. But Lyons took that to mean that most of their workers did not fall under IIA jurisdiction and they did not have to pay premiums on them, so they started to expand their franchise business.
In 2010 when they were audited again, 18 of their franchisees who had hired employees were not classified as workers, but the rest were because they couldn't really act independently from the control of Lyons. Lyons controlled the contracts, charged franchisees fees, and could tell franchisees what methods to use to get their cleaning done. They would have owed almost $150 million for all those back premiums. The audit was educational in nature so they were just asked to start reporting and paying for those franchisees that needed insurance from then on.
Which Lyons did not quite agree with, they appealed to the Industrial Appeals Board and at first at judge told them that none of their franchisees should be covered workers. Then L&I appealed to a three panel board who said that the franchises that had their own employees were not under Lyons care as far as coverage, but those franchisees that did not have employees should be covered under Lyons.
Neither L&I nor Lyons liked that decision. After several back and forth appeals it made its way through the courts and finally came to the superior court in Washington. They decided that the relationship between Lyons and its franchisees is more like "employer/employee" than a mutual agreement between independent businesses. Once a franchisee takes on their own employees they do not need to be covered by Lyons but all the franchisees that work alone are covered by Lyons.
With corporations like McDonald's feeling the pressure form their franchises lately, will a ruling this like have any influence on larger franchise chains? Not that I've ever seen a solo-staffed Micky-D's and this case was talking about franchises with one employee, but maybe this case will have wider implications.