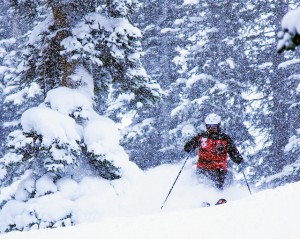 With the rising cost of medical claims and workers compensation some companies are taking it upon themselves to make sure that their employees are fit and in shape to be able to perform their jobs safer and healthier and hopefully with less injuries.  The Aspen Times is reporting about one such company doing this.  Aspen Skiing Co. workers have been using their time off this summer to hit the weight room and work on their agility skills to make sure they are prepared for the new annual fitness test that will be conducted prior to ski season.
Skico has implemented a wellness initiative for their employees to encourage a healthy lifestyle, but also studies show that healthy, in shape employees are less at risk for a workplace injury.  Skico hopes this new initiative will cut down on workplace accidents.  The fitness test will need to be passed by roughly 1,500 instructors, ski patrollers, and lift operators if they hope to be employed on the mountain this coming winter.
The new fitness test will begin being administered starting October 1st.  This is the first time that all employees will be responsible for passing the test. Previously it was only new employees in three departments that needed to pass the fitness test.
The fitness test will have eight components that will vary slightly depending of your department and job function.  Five minutes of "step ups" to an elevated platform, 15 push ups in one minute, balancing on one foot, and hopping side to side will be components of the fitness test.
Skico will meet with fitness experts up until the test time to make sure everything is on par.  If employees are worried about passing the test they will be able to meet with the fitness professional to make sure they have the necessary skills to pass the test.
The program should prove to be beneficial especially for the aging workforce who tend to get injured more.  More than 200 employees with Skico have been there 30 years or more.