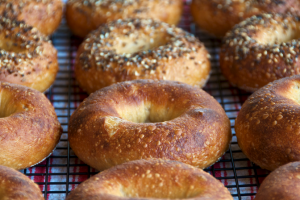 I hope sales of their green bagels yesterday picked up some revenue for Bruegger's Bagels, because now they owe the Occupational Safety and Health Administration (OSHA) some money after three of their workers were hospitalized.
In an Alabama facility last September, an exhaust fan in the bakery burned out. As a result carbon dioxide fumes from the ovens exceeded safe levels and three workers suffered carbon monoxide overexposure.
After an OSHA investigation the company is now facing three serious citations because they failed to have a written hazard communication plan in case workers were exposed to such a substance, they did not take steps to keep carbon monoxide to safe levels and they did not ensure the carbon monoxide detector was functioning properly. They did not report the hospitalization of those employees to OSHA which got them another citation. Fines totaled $26,000 for the proposed penalties.
Carbon monoxide can start to affect people in just minutes, which is pretty scary. Overexposure can cause dizziness, headaches, chest pain, or even suffocation. People can die from too much carbon monoxide and the levels at this facility were three to five times above the safe zone.