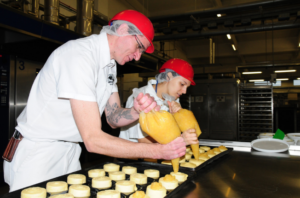 The Occupational Safety and Health Administration (OSHA) investigated a Florida commercial bakery to find several violations, including machine-guarding, fire and noise violations. The company received 16 various serious and other-than-serious safety violations, and investigators went to the site in Medley, FL after receiving a complaint about possible hazards.
The company Hometown Foods USA, doing business as Bagelmania Inc. faces $129,145 in proposed penalties.
They received serious citations for failing to ensure proper machine guarding on various pieces of equipment such as a lathe and milling machine, drill press, horizontal band saw, loaf cake machine, bagel machine and a round cake machine. They also received violations for failing to develop an emergency action plan or a hearing conservation program for employees who were exposed to 85 decibels or higher. They also received violations for failing to provide employees with personal protective equipment, failing to inspect safety devices on the ovens at least bi-monthly, and for failing to implement lockout/tagout procedures to prevent machines from starting up unexpectedly and posing a possible amputation risk.
They received other-than-serious violations because they did not train employees on how to operate powered industrial trucks and failed to inspect such trucks for defects.
Read the OSHA release here.