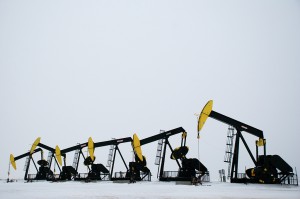 We've talked about the boom in the gas industry around the country. While fracking and other extraction methods have certainly given many areas an economic boost, they have also started to contribute to insurance headaches too. Auto claims and workers comp claims are on the rise for oil companies.
Factors like a large influx of heavy, oil-transporting vehicles on the road, greater use of private or beaten up roadways and more travel at night may be contributing to the auto side of this insurance worry. People living in rural areas where fracking occurs are not used to the increased traffic, especially when that traffic consists of heavy trucks and equipment.
Workers' comp is a required cost, and so most companies view it as a loss right from the beginning. Thomas Blanquez, an energy specialist from Quirk & Co. in Texas, said he is noticing an increase in attorneys who know there are clients that might only get a certain amount of money from work comp, and they take their clients to general liability to try and prove the injury was somehow incurred because of negligence or other wrongdoing.
That makes the claims drag on and the legal fees pile up. Randy Bila is an underwriter with Specialty Insurance Managers Inc. and he said that over-action claims tend to be an issue for oil companies. If a contractor does not have liability coverage in place for employees of their subcontractor or other third parties they could be susceptible to a suit from that worker for something like an unsafe work environment. When that coverage isn't there it's up to the courts to decide and the court may favor the injured worker.
Besides the legal mumbo-jumbo, the economic potential of the oil industry has attracted workers. A lot of them. Some might be less experienced than they should be, yet they are still placed in positions of responsibility where they could get hurt.
"There are so many hands that are needed and so few good hands, safe drivers that can pass drug tests, show up to work on time, things of that nature," Blanquez said. "It's forced the criteria for drivers and employees to be lowered because there's so much money at stake. It's the whole warm body approach and unfortunately that's lending itself to poor performance on the loss history side."
A lot of wells are placed very close together at sites which adds to the workplace hazards. If there are 12 separate wells placed on one well pad and each has their own separate process with separate machines and separate operations going on it can be easy for an accident to occur. With workers paying attention to tasks involving construction, equipment, fracking fluid, chemicals, the sand, cleaning the tanks, transportation, exploration, or production it can be hard to manage everything going on at your own well, let alone 11 other wells in your area.