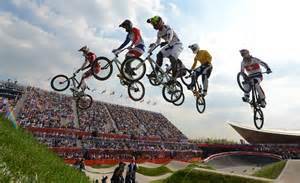 Tony Perry Sr., a 52 year old man of Port Orchard, WA pleaded guilty on Thursday to stealing roughly $14k in workers comp disability benefits.  While claiming that he was too injured to work he was caught on video camera racing BMX bikes, which is a highly intense and physically demanding sport.
Perry pleaded guilty to two counts of third-degree theft.  Judge Anne Hirsch who presided over the case in Thurston County Superior Court sentenced Perry to 364 days in jail, but if he can obey the law for two years that was suspended to 15 days which will be served at home under the surveillance of an electronic monitoring system.
Perry was also ordered to repay $14,422 to the Washington State Department of Labor & Industries.  That amount is what he collected form January 2012 through August 2013 in workers' compensation checks.
Perry was receiving his work comp benefits based upon a knee injury that was sustained while working in grounds maintenance while he was lifting a heavy object.
Perry was videotaped competing in BMX races, investigators also found Facebook posts regarding his racing.  He even described in a Facebook post how he crashed his bike and injured his ribs, yet when the State asked him about this he claimed his injured knee caused him to fall in his home.
I am still amazed everyday how people try to defraud the state for workers comp money.  Even more so to be as brazen as to plaster things all over social media about their criminal activities.  As fraudsters never learn it seems to make the jobs of the investigators that much easier.