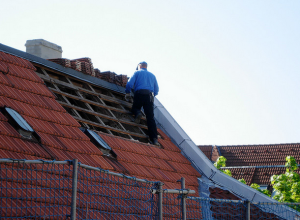 An Illinois contractor is looking at substantial fines after it was discovered that they had required protections on hand but failed to use them to protect their workers. A mistake I hope they won't be making again…
C.I.C. Corp. is a roofing and siding company that was on the job in Des Plaines, Illinois. Workers were on a low-slope roof without fall protection even though it was sitting there on site. Officials from the Occupational Safety and Health Administration (OSHA) handed them six citations including a willful violation for failure to provide fall protection, as well as other safety violations amounting to $73,290 in fines.
OSHA officials said this company had been cited for the same things in 2011 and 2013, but seemingly have not learned their lesson. Falls are the number one cause of death in construction and failure to provide fall protection is the number one violation handed out from OSHA. Not a good combination.
The company was also cited for failing to train their workers in fall-hazard awareness, exposure to isocyanates, failure to require personal protective equipment when using those chemicals and failure to train workers on the health dangers from these chemicals. Isocyanates are a leading cause of occupational asthma and are found in insulation or coating materials.
Thankfully this crew avoided any tragedies but a serious injury or even death could be just a step away for those who don't give their employees proper fall protection.