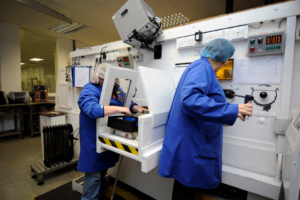 California's Division of Occupational Safety and Health Administration, Cal/OSHA, has completed their investigation of an incident at the Pacific Scientific Energetic Materials Company in Hollister, CA that left a technician seriously injured. The company was cited for various serious and willful violations and is facing fines of $293,235.
A technician was preparing explosives in metal tubing, Small Column Insulated Delays (SCIDs) for neutron radiation analysis. She had already mounted 79 of these onto aluminum support brackets attached to an aluminum tray and went to secure them to the tray with tape. When she did that, 75 of the 79 tubes exploded and metal shrapnel flew through the air. The technician was seriously injured in the incident.
The company received nine workplace violations in all- three of them willful, four serious and two general citations. They received a willful serious violation for failing to protect employee workstations from explosive tools in the holder, even when they had their own manufacturing procedures that required the use of a safety shield when working with loaded holders. They also failed to identify and control hazards associated with handling these explosive tubes during their manufacture. They received another willful serious violation because they failed to provide written instructions on how to mount SCIDs safely to a metal tray for their analysis.
Pacific Scientific was cited previously after an explosion in 2007 required one employee to be airlifted to intensive care after suffering serious burns. They were cited for a lack of body protection and for lack of a safety plan. They were cited again for failing to identify a hazardous practice safety plan when they were investigated following a 2015 accident that caused serious injury.
Read the Department of Industrial Relations press release here.