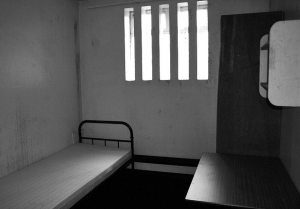 An interesting case out of Nebraska caught my eye simply because it broaches a topic that I've never even really thought about before. Seemingly the courts in Nebraska had never been presented with a case of this nature either. What happens if you are imprisoned while receiving workers' comp benefits?
Patricia Damme had always had problems with her spinal disks; starting back in 1995 she had a lumbar laminectomy. She also used drugs and had some mental health issues but like to work because she said it helped her deal with some of her psychiatric issues. She had boxes fall on her in 2001, requiring a cervical discectomy and fusion for which she received disability benefits. She was in a car accident in 2004 and reported some back tenderness and fell in 2006 after which she started to have some serious neck pain and lower back pain. She was showing signs of degenerative disk disease. In 2008 she tripped and fell against a wall which caused her great neck pain and she started to see a physical therapist who told her she could return to work but placed some restrictions on her.
Fast forward to 2009, when Patricia Damme worked for Pike Enterprises, Inc. which owned a McDonald's where Damme worked. In October she was carrying bags and when she bent to put them down she felt a pop in her back and could not stand up. She claimed she never felt pain like that in her life, even with all of her other back problems. She went home to ice but then ended up going to the hospital that night where the doctor said she sprained her lumbosacral and sent her home with some medications. After a couple of days she went to get an x-ray and her spine showed serious loss of disk height at her L4-5 level, much more serious than it was in a 2006 x-ray. She was given a lot of pain medications while they debated whether to perform surgery or not, though doctors did agree that her employment was a contributing cause of her symptoms and that it may have aggravated her previous conditions. In and out of the doctor's office for a few years, Damme's condition was never deemed bad enough to require surgery, and doctors were hesitant to perform surgery because of her past use of illicit drugs and psychiatric problems. So she continued to take medications and wait. In 2010 a doctor that Pike had asked to evaluate Damme said that it was more likely that her preexisting conditions caused her problems more than her injury at the McDonald's had, that he thought she requested pain medications more out of her dependency and not for her back and he said she had reached the maximum medical improvement. After that diagnosis, Pike denied her medical care.
Then she was arrested in 2011, for reasons not specified in the case. She served her time and when she was released started to see a new physician and surgeon, Dr. Woodward. During her time in prison Pike argued that she could not receive benefits, and she was only able to obtain care again in 2012 when she was referred to Dr. Woodward. After reviewing her he determined all her nonsurgical treatments were not successful if she was experiencing constant pain, and recommended spinal fusion only if she stopped smoking and taking so many narcotics. The surgery was a success and in June of 2013 she was released to work with no restrictions and was at maximum medical improvement.
The courts said there was enough evidence to show that her original injury in 2009 caused her enough discomfort and pain that the surgery she received in 2013 was necessary to fix it. In her previous incidents she had never needed pain medications like she did after this 2009 injury. They also ruled that since her injury resulted in total disability, her prisoner status should not bar her comp benefits. Pike argued that temporary disability benefits are there to supplement and employee's wages while they are recovering, so if she was in jail she was clearly not working. The court said that disability benefits are awarded for diminished employability or earning capacity in general.
The court ruled that workers' compensation awards can only be reversed or set aside if the original compensation court awarded too much, the incident was fraudulent or there was not enough evidence to have given that award in the first place. Jail doesn't seem to match any of those descriptions in this case.