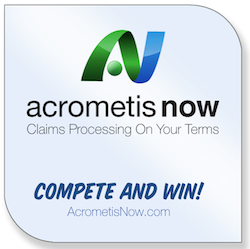 Healthcare Solutions will be at RIMS (Booth 567) and sporting the Acrometis Now sign. Snap a pic with it and enter our cANdid Camera Contest to win a PAIR of Kindle HDX Tablets! Complete contest details here.
Healthcare Solutions provides workers' compensation and auto insurance carriers, third party administrators (TPAs), managed care organizations (MCOs), government agencies and self-insured employers with outcome-focused, customer-driven solutions. Utilizing market-leading technology, Healthcare Solutions is redefining the management of claims related expenses. They deliver demonstrated benefits and savings complemented by deep industry expertise.

When you choose Healthcare Solutions, you get a company with a commitment to service excellence and innovation. You get a trusted partner who is committed to tailoring solutions to support your company's goals. And, most importantly, you get seamless control over the entire continuum of care for injured workers and policyholders.
Stop by their booth (#567), snap a picture with the Acrometis Now sign (bonus entry if you include Nancy Hamlet in the photo) and learn more about Healthcare Solutions. Not going to RIMS? Check out Healthcare Solutions on their website.