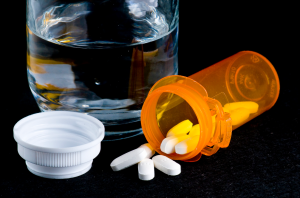 After much anticipation, the Centers for Disease Control and Prevention (CDC) has released their final recommendations on prescribing opioids for chronic pain patients based on scientific evidence, trials and expert recommendations. Earlier drafts of the guidelines were open to public comments, which were taken into consideration for the publication.
The "CDC Guideline for Prescribing Opioids for Chronic Pain- United States, 2016" can be found on their website. The hope is that these will help those who are prescribing opioids to treat pain gain a better understanding of when it is appropriate to prescribe such medicines, and identify situations where opioids are not necessarily the better or only option and be able to point patients in another direction. They also hope that by changing opioid prescription practices, patient outcomes will improve and they will not have to use opioids for the long-term. This comes in the middle of an opioid epidemic in this country, in 2014 drug overdose deaths surpassed deaths in car accidents.
In the CDC's introduction, they cited a study that revealed in 2012 there were enough prescriptions written to ensure every adult in the country had a bottle of opioids (259 million).
The guidelines are not geared towards cancer patients, palliative care patients or end-of-life patients. They are directed towards patients who are seeking relief from their chronic pain. The CDC is not telling physicians to stop prescribing opioids altogether, as they realize there are a lot of chronic pain patients in the country looking for relief, but they released the guidelines in order to make treating that pain as safe as possible for people since the medications have serious potential for addiction and overdoses. Doctors are encouraged (when they do decide to prescribe opioids) to start with the lowest possible dose and try to prescribe opioids just for the short-term. They are also encouraged to look at other treatment options besides opioids like behavioral treatments, exercise therapy, or other non-opioid medications. Patients should be aware of the risks associated with opioids before they start them.
The center recommends that doctors do a little bit of background on patients before they prescribe opioids, to see if they might have a history of drug abuse or mental health issues. Patients should be regularly re-assessed (every three months at a minimum) to determine their pain level and see if they should adjust, lower or slowly stop their dosages.
U.S. Representative Elizabeth Etsy from Connecticut, a state who has seen firsthand the widespread effects of drug addiction, said the guidelines help patients and physicians alike.
"Patient education, alternative pain management and early detection of opioid addiction are crucial elements of our nationwide addiction prevention strategy, and I applaud the CDC for their work to bring an end to this epidemic," she said.
The CDC has also provided a quick fact sheet and checklist for those seeking additional clarification and guidance.