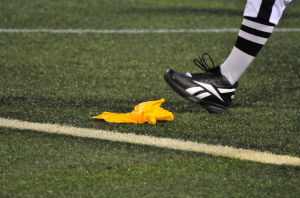 In 2013 Oklahoma changed its workers' comp system from a court-based system to an administrative system, in the hopes that disputes would be settled outside of the court system and in front of a workers' comp commission. Employers are also allowed to opt out of the state's workers' comp, but they must compensate their injured workers on their own. It is a new system and a controversial one, and a case out of the state last week could push the tide against the administrative system.
Darrell Duck worked for the Hibdon Tire Plus business and was loosening bolts on a wheel and suffered neck and back injuries. He sought compensation for his injuries, claiming that it was negligence on the part of his employer even if they didn't do anything intentionally to cause him injury.
And the judge agreed that the injury was foreseeable, so he could sue his employer. The judge looked at the Oklahoma Workers' Comp act and saw that in order for an injury to be compensable it must be "unforeseen", but the judge thought this injury was foreseeable and rejected the employer's attempts to dismiss the case. The statue that an injury must be "unforeseeable" could potentially eliminate many common injuries at work, like a firefighter who suffers from smoke inhalation or a chef who is burned on a stove.
While workers' comp is supposed to protect the employer from suits while still serving the medical needs of the injured worker, some argue that the "unforeseeable" clause actually prevents many workers from getting their due compensation. The ruling means that instead of having this dispute settled by the workers' comp commission, it could now go to district court. Employers are now asking if they are going to be held liable in the courts for negligence, even unintentional negligence.
The case will likely be appealed, and the defense attorney Bryan King said that if the decision stands it will be bad for both employee and employer in the future. Some think that the court system only delays the process and doesn't get benefits to the injured worker as quickly as the administrative system would.
The prosecuting attorney, Bob Burke said the original drafting of Oklahoma's comp law to switch it to an administrative system in 2013 was "sloppy" and had led to a lot of problems in the system.
Stay tuned…