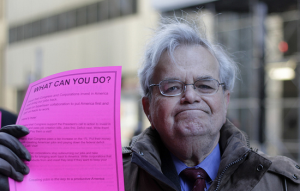 The largest grocery supplier in the country, C&S Wholesale Grocers, settled the court case that resulted after investigators determined they had a retaliatory policy in place to fire injured workers.
The Attorney General Eric T. Schneiderman, and his office inspected the chain's warehouse facilities in Chester and Newburgh, New York because the company had a written policy to fire employees who were injured in a "preventable accident" while still in their first 90 days of work, a trial employment the company considered a probationary period.
Workers' compensation law prevents retaliation against employees who get workers' comp benefits, and the company's policy probably prevented or "strongly discouraged" workers from seeking workers' comp if they were injured in this trial period.
The AG's office found out about this policy after a worker, Julio Rodriguez, injured his foot with one week left to go before his first 90 days working were finished. He was fired by C&S and when he sought workers' compensation his case went to court where the court found he was illegally fired.
The office investigated the policy and found that the company had a habit of labeling almost every accident preventable and firing many workers for back pain without an identifiable cause. The company continued to write warnings to employees who were injured saying that if they were injured again they may face disciplinary actions.
C&S will pay $46,000 in damages, $10,000 of that will be penalties and the remaining $36,000 will go to former workers who were fired illegally. The company is also ordered to change their policy and train workers on their workers' compensation rights, while the office will monitor them for compliance of this law for the next two years.
Rodriguez said he is grateful that workers in the future will be treated fairly, and if a worker is injured they should not have to choose between losing their job or seeking medical treatment.