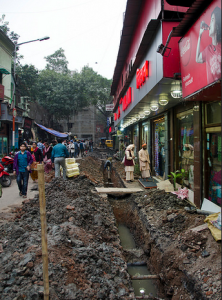 After a trench collapsed on a construction site and buried a man for several hours, the Occupational Safety and Health Administration cited the company responsible, saying that it was a completely preventable accident.
Mark Mashuda Excavating Inc. operated in Mars, PA. They were working on a site in Evans City to install a sewer line. Obviously they were working underground so they built a trench; the site was approximately 13 feet deep. The problem is that it did not have the proper protections in place; they only placed an eight foot tall trench box in the 13 foot hole. The wall collapsed and buried an employee, who luckily survived but not without serious trauma. He was buried up to his waist for several hours
They received a willful violation for failing to have the necessary protective systems in place, and another willful citation because the walls of the excavation site were not sloped or benched. They received a serious violation because employees were working outside of the trench box. The proposed penalties total $147,000.
The OSHA area director, Christopher Robinson, said that his administration would "not tolerate employers not meeting their legal responsibility" and that it was "completely inexcusable" that the employer allowed their workers to work in such an unsafe environment.
This company has been cited three times by OSHA in the past. They received two fines in 2013 for two different violations, which a spokeswoman from the U.S. Department of Labor said likely were an aggravating factor in the heavy fines this time around.