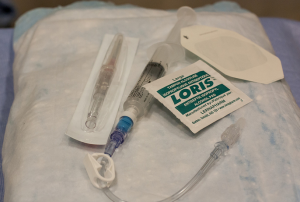 Times change and sometimes old laws that are on the book are no longer applicable. The K-Mart Corporation just found that out the hard way when their employee's treatment was determined to be compensable after a West Virginia appellate court found that the state regulation the company had been using as a defense was invalid.
Jennifer Moore worked for K-Mart for over thirty years refurbishing furniture. She used grinders and sanders in her work which kicked out a lot of dust. The room she worked in had bad ventilation and was pretty small, so over time she was exposed to a lot of furniture dust and metal dust. She started to feel numbness in her feet that grew worse. She was diagnosed with peripheral neuropathy due to heavy metal exposure. Her claim was ruled compensable after a court battle.
Her doctor started a chelation therapy treatment which essentially cleans out the blood of these toxic metals with chemicals through an IV. If left untreated the metals could have traveled to her brain and caused a clog or a stroke. The treatment took place in his office because no hospitals in the state performed this kind of treatment. Her doctor said that this was medically necessary in order for her to get better, and she was already seeing improvement after the treatments they had already done though he recommended even more. She started treatment at a time when her case was ruled non-compensable, though during treatment time she won her case and her claim became compensable. When she tried to get her original treatments paid for, the expenses from the treatments were denied by the Board of Review, which said that the West Virginia Code of State Rules 85-20-62.2 specifically denied reimbursement for IV chelation office therapy.
When Moore appealed, the Supreme Court of Appeals reversed that BOR decision and said that workers' comp laws are there to help pay for treatment for workers who have been injured on the job. They found that the regulation that "will not reimburse for IV chelation therapy performed in an office" was unreasonable and that this kind of treatment was necessary for the worker to receive in order to recover from her injury. They said that clause of the regulation went against what the Workers' Compensation Act intended.