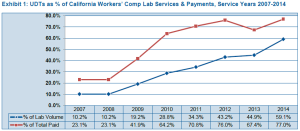 In California, drug testing in workers' compensation has increased which may correlate to the increase in opioid use as well. Opioid abuse levels are still sky-high, so some wonder if all the testing is really helping injured workers or just adding to the cost of workers' compensation. The rise in testing is not limited to California, but a study out of the state takes a deep look at the numbers and circumstances surrounding current rates of drug tests.
A study was released by the California Workers' Compensation Institute (CWCI) that looked at roughly 2.8 million lab records between 2002 and 2014. In the seven years between 2007 and 2014, urine drug tests increased from 10.2 percent of total workers' comp lab services to 59.1 percent. Not surprisingly costs rose as well, from 23.1 percent to 77 percent of reimbursements for all lab services. In the twelve year study payers spent $108 million on lab tests in workers' comp.
The CWCI says along with the increases of overall tests and costs, there was an increase in the amount of patients being tested as well, along with the number of tests they received and the duration of their testing periods in their claim. Testing for opiates remained the leading type of drug test, followed by a test for illegal substances like Cocaine or PCP that might cause an adverse reaction if someone was using them with a prescription medication.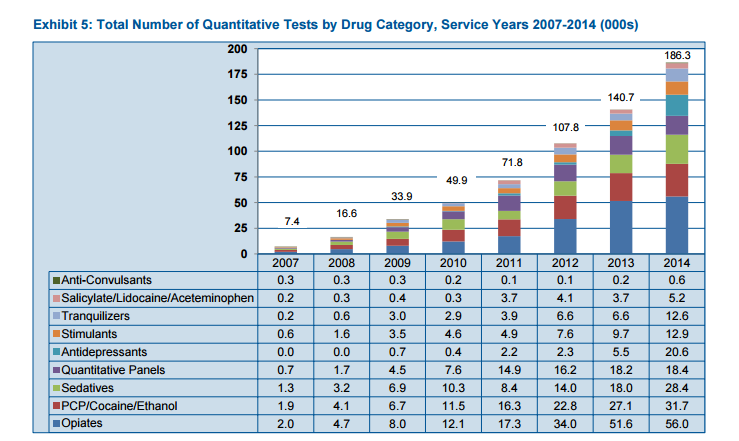 In 2010 and 2011 the state changed the way Medicare could bill drug screens because they thought they were being used too much, and study authors think this created changes in the way tests were administered. They began to see more quantitative tests to measure the amount of drugs in a person's system rather than just the presence of drugs like a drug screen would. The new rules did not restrict quantitative tests as much as they did drug screens, which authors think is the reason for the increase.
They also noticed that during the study period, the "top ten" labs that were billing for large amounts of these tests dropped while provider billing for tests increased, which researchers think is due to the fact that more physicians do these tests in-office these days.
"Performance of a test…does not automatically translate into direct savings, and it is less likely to produce savings if testing is prompted by a desire to increase revenue based on the frequency of use," states the discussion portion of the study.
Testing can help a patient adhere to their medication regime and help identify if there is the potential for abuse, but there is still a debate about whether the benefits are worth the costs and if some are testing for the wrong reasons.