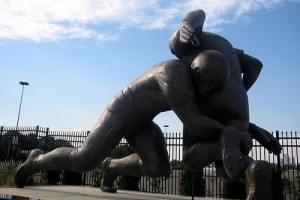 With all the attention surrounding workers compensation and the NFL, California data has shown that when it comes to these claims that defensive backs file more claims than any other position.
Defensive backs which includes safeties and corner backs for the game have filed 1,100 claims in California since 1990.  They also lead all players for filing injuries to the head and brain with 820 filings. You can find a full list of claims by former NFL players here courtesy of the LA Times.
It is thought that even though these players are not engaged in every play of the game they are often engaged in collisions at high speeds and make some of the hardest hits in the game which contributes to the high injury rate.
The LA Times did research on 3.1 million WC claims since 1990.  Since 2006 the data has shown that professional athletes from all sports have accounted for around 4,400 claims for head and brain trauma since 2006.
While defensive backs have the most claims, linebackers have made quite a few themselves.  They have accounted for 773 claims of which 568 were made for head or brain trauma.
Ronnie Lott is one of the greatest and most feared safeties to ever play the game.  He has claims pending against four teams he played for. Art Monk a wide receiver once said that Lott his him so hard that he was messed up for the rest of his career.  Monk's claim is also awaiting a hearing.
California has recently become a last resort for these former players to claim a comp filing because they cannot make claims elsewhere. Teams must either pay these claims out of pocket or carry expensive comp insurance.  A labor lawyer for the league estimates that it costs roughly $215,000 on average for each comp claim.
State claims data shows that defensive players file more claims than offensive players.  Quarterbacks filed 175 claims with 118 being that of the head or brain.  The rest of the offensive makeup filed 625 claims in total.
Recently the NFL also agreed to pay $765 million to former players who said that the league hid the risks of concussions from them.
This has been an ongoing battle in the State of CA, I understand that players get hurt, football is a violent sport.  I also can see where they are coming from with the filing of comp claims because as these players get older it will fall on the burden of medicare and private carriers to pay for the medical treatment stemming from these injuries.  Anyone and everyone who knows anything about football or has played knows concussions happen, I myself has sustained a number playing football and other sports.  For the league to have had to pay so much money for "hiding" the risks is crazy to think of, but that is just my opinion.
Source: LA Times