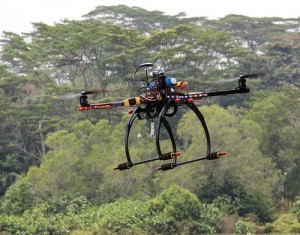 There are some who say that the insurance industry is a little behind when it comes to accepting and integrating new technology into their business practices. But lately there's been a lot of *buzz* regarding futuristic drones and their role in insurance.
What happens after an accident occurs? Adjusters are often deployed to the scene-documenting what happened, what the environment is like, who is there, etc. While it's good to be there and get a hands-on report, we already know how busy adjusters are and spending hours on the site of an accident takes time away from their already tight schedule.
What if a drone could take their place at the scene? They could fly around and take pictures of the scene, documenting the incident at angles the adjuster might never have seen or been able to get to. That would free up the adjuster to handle more claims and spend more time on each claim. It might also save them from putting themselves in harm's way at a treacherous worksite. A drone could snap a picture of a faulty roof or a high piece of rusty scaffolding and spare the adjuster from checking it out themselves, especially if it was that piece of equipment that contributed to the workplace accident.
I've only ever heard of drones in terms of military use, not for civilian use. But a recent story from 60 minutes supports the argument that drones are becoming more and more popular for commercial and recreational use. Photographers use them to take stunning aerial photos, researchers use them to monitor wildlife and drones help rangers fight wildfires because they can go places too dangerous for people.
A research team at Wake Forest University used drones to collect photos of a coal ash spill. Their aerial photos were able to document a better estimation of what exactly happened and how many millions of gallons of pollution were released into the river. And now they may be used for insurance purposes to assess damage or make sure a scene is safe for investigators to go in.
That's not to say the idea doesn't come without concerns. Privacy is a big issue, as a lot of these drones are equipped with high definition cameras. Others worry that drones will completely replace adjusters, but the industry is starting to understand the importance of the human element in insurance. The drones themselves might cause an insurance headache of their own if they crash or cause damage to someone's property.
Time will tell but I think this is something to keep an eye on. If this means adjusters have more time to spend working with claimants and working to close claims, maybe we will start to see drones as a common insurance practice.