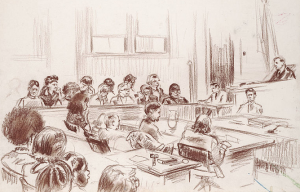 A retired California attorney who sought workers' compensation for his psychological injury was not eligible for benefits, according to the state's Court of Appeals, because it stemmed from his personal life and not his job.
William McNames was a research attorney for the Orange County Superior Court for ten years until he retired for disability reasons in 2002. He suffered from major depressive disorder (MDD) that stemmed from life events outside of work. It did affect his work because it took him longer to do his work, almost twice as long to do some tasks. He reported that he was often fatigued, had trouble focusing and processing information. One night he fell asleep at his desk and woke up to a painful neck and arm spasm. He started to work shorter hours and was allowed frequent breaks, and was limited on lifting heavy objects. He applied for disability retirement and at the time he retired they did not classify his disability as work related.
He objected and said his disability was service related. The board rejected that and McNames asked a trial court for a writ of mandate which was denied. McNames then took his request to the appeals court. They found that he was unable to prove his disability was service related. He saw a therapist who diagnosed him with MDD which she attributed to life events including his divorce, an election loss, a business venture he started that failed, and when he was asked to leave his church. Because of his chronic MDD he spent between 16-20 hours at the office trying to get his work done when it should have been done in 8-10 hours of a typical work day. He was not getting his work done in a reasonable time and the disorder pretty much prevented him from doing his job.