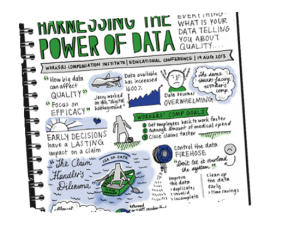 Acrometis President and COO Jerry D. Poole speaks on harnessing the power of data on the panel: Savings isn't everything: What is your data really telling you about quality?
There is no shortage of data in a workers' comp claims operation. The key is finding ways to use that data to make better decisions and, as Mr Poole explains to "Preserve the Reserves".
Download the sketchnote's of Jerry's talk to learn more about the exciting talk.
Be sure to attend the panel discussion 2:15 on Monday, August 19th in Grand Ballroom 8A of the Convention Level.
 Jerry Poole will be joined on the panel with:
Jennifer Hermann, Director of Data Analytics at MedRisk, Inc.

Jeffrey White, Director of Medical Management Practices and Strategy at Accident Fund Holdings, Inc.

George Furlong, SVP of Managed Care Program at Sedgwick CMS, Inc.