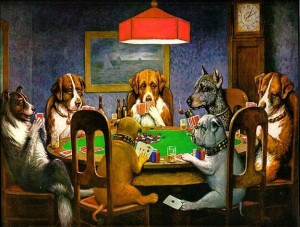 The practice of befriending potential clients is nothing new in the business world. But that doesn't mean that your extra efforts can translate into workers' comp should something happen outside the job.
Jacob Westerhof was an attorney at DeWitt, Ross and Stephens and he said it was expected that he promoted the business through engaging clients. He began playing poker games with a group of potential clients and his firm would reimburse him for snacks he brought to the games and for trips to Las Vegas that the group took.
When he was asked by one of the other players to go on a trip to a motorcycle rally with him, Westerhof said he thought it was a good idea and it would help cement the relationship. They were going to stay at a cabin that the potential client, Steve Franken, owned that was part of a case Westerhof wanted to handle for him. On the way to the rally Westerhof asked if he could drive the motorcycle while the Frankens followed in a truck behind him. Westerhof crashed and as a result of his injuries became a quadriplegic.
He sought workers' compensation and said that the trip was part of his marketing efforts for the business, but his claim was initially denied by the insurance company. He then took it to the Labor and Industry Review Commission, another circuit judge and lastly the Court of Appeals, who all denied the claim as well. The court found that he was an invited personal guest of the possible client; Westerhof did not initiate the trip and did not plan it. The court said that the poker games might be considered client entertainment, but just because the two had a relationship through the games does not mean that every interaction they had together was a business interaction.
Westerhof argued that his pay was based on actual work involved and the clients brought in, but those arguments were shut down when the law firm argued that Franken had never paid legal fees to the firm or had ever referred a paying client to them, so even though Westerhof spent a lot of time with Franken he was never really a business partner. He had also never been paid for the extra hours he spent at the poker game, so this trip should not have counted any differently.
Though Westerhof cited other situations where people went hunting with clients, got hurt, and received compensation, the court said they had stronger evidence that those cases were very much business-related and could be compensated.
The courts also noted that his injury occurred in 2006 but he did not seek workers' compensation until 2009- after he had sought and closed all other potential benefits. That was also the first time that he had labeled the trip as a marketing effort. He receives $10,000 a month for long-term disability and Social Security disability and is still employed by the firm so he is covered under their health plan. He must still pay out-of-pocket for things like home aides and home remodeling to fit his disability.
While his injury is tragic, it was an accident that the court deemed was unrelated to his law firm or the scope of his employment.