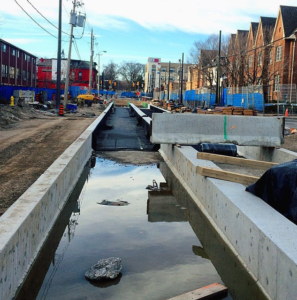 The Occupational Safety and Health Administration (OSHA) inspected one of the worksites of a company who lost an employee in December because of an unprotected trench. Inspectors found the same hazards at this other site, leaving more employees vulnerable to the same fate suffered by their coworker.
Arrow Plumbing LLC is based in Blue Springs, MO and was cited by OSHA for failing to provide basic safeguards against trench collapses, and for failing to train employees to recognize and/or avoid cave-in hazards. Had they done so, their employee might still be alive. The employee was working on a home construction at a site in Belton, MO. Inspectors also visited a Kansas City, MO site. Thankfully no employees were injured there but inspectors still found them working in unprotected trenches. The company received six willful violations and eight serious violations.
They failed to protect workers by using retaining devices or from keeping excavated materials more than two feet away from the edge of trenches. They did not make sure a competent person identified confined spaces before work began on the site, exposing employees to potentially harmful atmospheres. They failed to develop or implement a confined space entry program, and failed to train workers about the hazards of confined space. On this site employees were entering active sewer manholes.
They were cited for failing to train workers to recognize cave-in hazards, and as a result a worker who entered a trench was killed when the walls collapsed. The trench was not inspected prior to the employee entering it, and the trench was not built with the proper benching or sloping techniques to protect workers in the event of a collapse.
Inspectors found several other violations at the Kansas City site, they lacked a Hazard Communication program so workers were exposed to chemicals on the site such as Oatey glue and primer. They did not provide ladders out of trenches so that workers would not have to travel more than 25 feet to get to one to get out of the trench. There was water that had accumulated in the trench, which could cause it to collapse.
Proposed fines total $714,142.
There is an On-site Consultation Program offered in every state for employers to take advantage of. Employers will learn about hazards at their workplace and understand how to improve the programs that they do have. They may even qualify for a yearlong exemption from OSHA inspections, and the consultation services will not result in citations or fines.
Read the OSHA release here to view the citations and learn about the resources OSHA offers to keep construction sites safe.