Are you handy with creating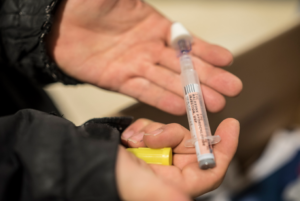 apps? Test out your skills in a new competition from the U.S. Food and Drug Administration. The FDA has opened up a Naloxone App Competition to the public. The idea is to develop an app that can connect people having an overdose with a service nearby that carries naloxone- the antidote for an overdose. People who can get naloxone in time can increase their chances of surviving the overdose.
The competition is part of the U.S. Department of Health and Human Services' program to reduce opioid dependence and abuse, called the Opioid Initiative. This plan targets prescribing practices, getting more people access to medication-assisted treatment and increasing access to Naloxone. It began in March 2015 and there has been progress in the three areas but there is still work to be done. In 2017 administrators hope to get more providers to adopt the Centers for Disease Control and Prevention's guidelines for prescribing opioids, to try and get even more people access to medication-assisted treatments, and to increase access to naloxone by equipping more first responders, especially in rural communities.
The FDA Commissioner Robert M. Califf said, "Through this competition, we are tapping public health-focused innovators to help bring technological solutions to a real-world problem that is costing the U.S. thousands of lives each year."
Overdose deaths involving prescription drugs, heroin and fentanyl have tripled since 1999. These are overdoses that can be stopped or reversed with naloxone if a person receives it in time. It's only available as a prescription right now. Recently there have been efforts to make the doses more readily available to first responders, community organizations and "laypersons"- people who have been identified as a friend or a family member of a person battling opioid abuse. Although more doses are out there, that doesn't guarantee the holders will be with the person overdosing if it happens.
That's the idea behind the app. It will connect an overdose victim, or someone who is in the presence of an overdose victim who recognizes the symptoms, with a close naloxone carrier. Peter Laurie, M.D., M.P.H., is the associate commissioner for public health strategy and analysis at the FDA. He says that there are apps to train people to identify overdoses, and even to connect people with responders for other medical emergencies but none to connect overdose victims with nearby naloxone carriers. So far.
Registration for the competition runs until October 7, 2016, and the final concept is due November 7th. Registrants have access to resources from the FDA- such as a background on the opioid epidemic, recommendations on the proper use of naloxone, and they will also have publicly accessible code for participants to use in developing their app. The reward is $40,000.
For information on how to enter- click here.
View the entire press release here.