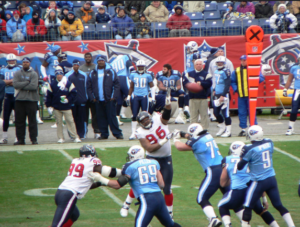 Yesterday saw the announcement of the first two claims in the National Football League's (NFL) concussion settlements. It was alleged that the league hid information from players about the links between concussions and CTE. The league did not admit that they were at fault as part of the settlement.
The names of players involved were not disclosed. The United States District Court of the Eastern District of Pennsylvania is overseeing the process and was notified the claims were approved. The payouts totaled $9 million, $5 million for the qualifying diagnosis of amyotrophic lateral sclerosis (ALS) and $4 million for a qualifying diagnosis of chronic traumatic encephalopathy (CTE). The names of the players involved were not disclosed but because of the amounts of the payouts, the players each played at least five seasons in the league and were diagnosed before their 45th birthday.
The league established that the player's estate would be able to collect payouts relating to CTE, since a diagnosis cannot be determined until after a person has died.
Diagnosis of ALS, Parkinson's, Alzheimer's or dementia also makes players eligible for payouts. The NFL estimates 6,000 former players may be at risk of developing Alzheimer's or some form of dementia.
The deadline for registering for benefits is August 7th, and over 14,500 class action members have done so. Members can be former players or their families. There is a potential for 20,000 members to register if they do so before the deadline, but 146 have so far opted out.
There are 67 physicians contracted by the claims administrator that live in or near 49 of the 53 cities where most of the retired players live. The physicians will be making diagnoses. The baseline assessment program administrator contracted with 141 providers to administer their tests.
New York Times and Miami Herald