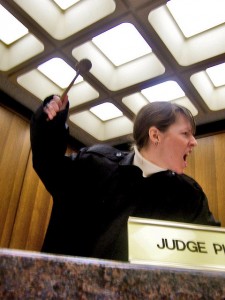 With WCI in full swing down in Orlando, I'm sure everyone is buzzing about the recent breaking work comp news out of the state of- you guessed it- Florida.
Last week, a judge in Miami declared the state's workers' comp law unconstitutional. The judge said that patient care and benefits under the law were not substantial and in fact, the law was actually violating those employee's rights because it was so poor. Workers have no choice but to use this existing work comp system when they are injured. It is a rare circumstance that workers have been able to sue their employers.
The case stemmed from a worker who tripped over boxes left on the floor back in 2012. The employee was of retirement age but wanted to keep working even after the fall and subsequent shoulder replacement surgery from injuries she sustained. She remained in pain and was forced to retire. Judge Cueto said that the law does not provide permanent partial disability benefits and it is not an acceptable exclusive remedy to going to trial. His challenge of the law is not the only case to question the longstanding work comp law. Another case of a firefighter who was left without income when he suffered disabling back injuries and then saw his temporary wage-loss benefits expire is now in front of the Florida Supreme Court to determine whether the statute is constitutional or not.
The law has been amended many times. In 1968 it was changed to ensure the work comp system was the exclusive remedy for workplace injuries. But back then employees received better benefits and had all their medical bills paid for. The law was changed again in 1990, 1993, 2003 and other years and each time it was changed more benefits got stripped out of the statute. Legislators said these changes were necessary to attract businesses to the state, and in 2001 Florida was second in the country for high insurance premiums that might deter businesses from settling there. Since 2003 revisions have dropped the rates by 56 percent.
George Kagan is an attorney in Florida who said that yes, the current system is flawed, but it protects most people who need it, most of the time, and they won't have to wait months or even years in litigation before getting the benefits they need. He says he recognizes that there might be some workers who are under compensated.
Judge Cueto said that the "deal" of workers' comp (an employee gives up their right to sue in exchange for no-fault justice) does not quite apply in Florida as lawmakers have slowly stripped away most of the benefits to employees in their part of the deal.
We will have to wait and see if Cueto's ruling is appealed. The attorney general has 30 days to file.