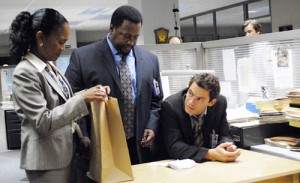 Detective Anthony Fata of the Baltimore Police Department, who you might remember was convicted this past August for lying about shooting himself and then covering it up to illegally receive workers' compensation benefits, has finally received his sentence. He was found guilty of perjury, misconduct in office and workers' compensation fraud. Though perjury carries a maximum penalty of 10 years in prison and workers' compensation fraud can net you up to 15 years, he received probation and 500 hours of community service.
The department is understandably upset about the situation, and said they will not tolerate anyone who brings dishonor to their agency. Where's hot-headed Detective McNulty of "The Wire" when you need him?
"We take no solace in having to bring these cases, but the credibility and integrity of police officers is just as important as any lay witness, and when an officer violates that trust, we have no choice but to prosecute so that the public, and future juries, understand how important we value honest testimony in all our cases," State's Attorney Gregg L. Bernstein said in a statement.
A 14-year veteran of the force, Mr. Fata told police that he was shot in a garage by a man he met on the stairwell on January 18, 2011. He said he returned fire but responders were unable to track down a suspect and ballistics could not determine whether or not there was a second weapon fired at the scene. The only kind of bullets they found were 40-caliber shells, which are used by the police department. They did recover the bullet that struck Mr. Fata but it had been damaged from hitting a concrete wall and could not be linked to any particular weapon.
This raised questions about whether his gun had accidentally discharged, given the location and nature of his wound. The bullet grazed his inner thigh which investigators said resulted from a downward trajectory.
We encounter stories of fraud all the time, but I think it's even more unsettling when a person in a position of authority and expectation violates our trust. Certain people think they can get away with fraud and collect money they don't deserve that other people truly need. Mr. Fata did not take the stand so I really can't speak to what motivated him to shoot himself. It just seems like there could have been a better way to go about earning some extra cash without taking a bullet.
Source: WBALTV