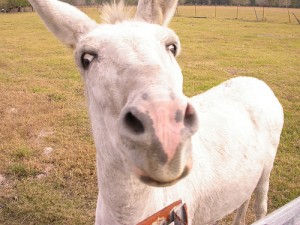 Competition between coworkers at the traditional company picnic – although it can get heated – is perfectly normal. One sport that you probably haven't participated in with your company is donkey basketball.
This sometimes controversial sport is played similar to basketball, with the same rules and regulations. The only (rather substantial) difference between the two is that instead of hustling down the court, participants are riding donkeys the entire time.
Apparently games are usually played for fundraising events? I'm still trying to understand how this is a thing complete with official leagues and teams. Even coming from a state with the annual Great American Lobster Race I still find this concept baffling.
Just be careful before bringing the sport to a teambuilding event. A rider in Waterloo, Illinois settled for more than $110,000 for injuries sustained in a game.
Could workers' comp have been claimed if this incident occured at a company event instead of a fundraising one? Now that would be an interesting case to see on the desk.