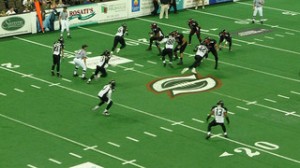 I've had a bet going on whether or not professional indoor football is still a thing, but the Courthouse News Service just reported that three players who were injured on their home turf in Rockford, Illinois are being denied workers' compensation benefits. Looks like I owe my brother $20.
Robert J. Lash, Maurice Talton and Jaa Valentine were individually contracted for the 2009 season with the Rock River Raptors of the Continental Indoor Football League.  The Raptors' alleged owner was Championship Investments LLC. When the players were all hurt playing home games, they applied for benefits through the Illinois Workers' Compensation Commission.
Talton and Lash were hurt earlier in the season and had been receiving payments from West Bend Mutual Insurance Co., Championship's insurer of choice. Once Valentine was hurt, West Bend didn't want to pay any of them because they had a report stating that Championship was not the owner and had violated the terms of the insurance agreement.
Jordan Kopac, owner of both Championship and another company called JFK2 LLC, testified that JFK2 became a partner of the Raptors in that season. The courts said that meant West Bend was valid in their allegation that Championship was no longer the owner. Another nail in this case's coffin came when the court found that these players were not Championship employees but Raptors employees. The policy was for Championship employees. Kopac also owned another outdoor football team in Wisconsin, and since he purchased the policy for "the team" in Wisconsin and not Illinois, they were not entitled to benefits from injuries sustained in Illinois.
Naturally the players appealed the decision but courts upheld the ruling in an opinion by Judge Robert D. McLaren.
"The plain and unambiguous terms of the contracts indicates that defendants were employed only by the Raptors, and nothing in the contracts indicates that defendants were employed by Championship," said McLaren."Kopac testified that, although the contracts identified 'the team' as the Raptors, he considered that a typo and considered the agreements to be 'Championship' contracts."
As you may have guessed, I don't know much about indoor football other than remembering that Bon Jovi was somehow involved. I do know that there's a chance you can get hurt pretty bad in the game and may need some support for your medical bills. I'm all about going through your contracts with a fine tooth comb but I still feel bad for these guys. There's been a lot of news lately about the NFL and the breaks they are getting for compensation benefits. Even though arena players are professional athletes I don't think they make nearly as much money as NFL quarterbacks to be able to afford these bills on their own. From what I read it seems like they were trying to get some needed help, not cheat the system.