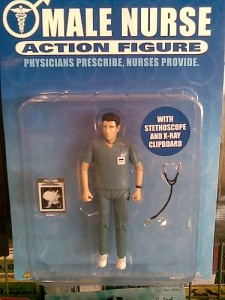 We watch a lot of television programs that feature people working in, clearly, dangerous conditions- any Ice Road Truckers or Deadliest Catch fans out there? If you're more into medical dramas, I bet you'd never think your favorite ER or Grey's Anatomy doctors and nurses face a similar risk of work-related injuries as the guys driving semi's over thin sheets of ice.
A report by Public Citizen found that nurses, aides and attendants suffer a higher rate of musculoskeletal disorders than any other profession, costing the system over $7 billion a year to treat back injuries alone. Healthcare employees reported 653,900 workplace injuries in 2010, almost 152,000 more than manufacturing, the second-most affected industry.
You might think that the industry with the most injuries would also receive the most visits from the Occupational Safety and Health Administration in order to perform important inspections. It turns out that OSHA inspectors check out healthcare facilities about 1/20 of the times they inspect construction sites. A report from the American Society of Safety Engineers claims there is one OSHA inspector for every 59,000 healthcare employees, spread over eight million workplaces.
Nursing is a female dominated field, and even though we appreciate all our Murse friends (male-nurse) there just aren't enough of them to do all of the heavy lifting. Put a 115-lb nurse in charge of moving a 300-lb person and the chance she'll strain her back or some other body part is high, no matter how strong she is. Hospital beds can be at a difficult height and workers might have to get into awkward angles to move a patient. Not a good recipe for proper lifting technique.
When the people who are trying to help injured workers are in pain or incapacitated themselves, we have a problem on our hands. Not to mention that hospitals overbill to offset the expense to their employees. OSHA began trying to control this problem in 2012 with additional awareness programs and inspections, but it is such a huge problem I'm not sure it can be reined in overnight.