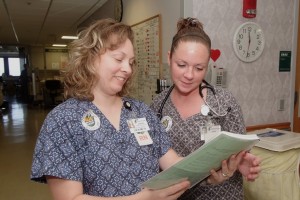 Did you know this is National Nurses Week? Though we should honor the hard work and sacrifices of nurses year-round we are going to make sure this week is extra special for our nurse friends. They are there when injured workers need healing and guidance and put themselves in harm's way while serving others.
To celebrate, we are highlighting a new program in California that offers supplemental insurance for nurses who are injured at work accidentally or by aggravated assault. For 12,000 registered nurses in select California and Nevada hospitals that are part of Dignity Health, the model program kicked off this week.
The goal of the RN Accident Prevention Program is to work towards eliminating accidents, violence and injuries in the first place, but to offer a supplemental insurance plan should those things happen.
Nurses can obtain up to $200,000 in benefits should they suffer assault or accidental death, or contract a disease like HIV from a needle stick. They can also receive trauma counseling after the event.
Kathy Dennis works at Mercy General Hospital in Sacramento and participates in the program.
"When an RN goes to work each day to care for her patients and their families, it's important for everyone, including the RN's own family, to have the assurance that hospital is dedicated to preventing workplace violence," she said.
The program is an effort between Dignity Health, the California Nurses Association/National Nurses United and National Nurses Organizing Committee-Nevada/NNU.
A bill currently in the California Senate, SB 1299, would require the state's OSHA Standards Board pass requirements for hospitals to adopt violence prevention plans in the workplace. Taking a "prevention is the best medicine" approach in this case.
The California Nurses Association Legislative Director, Bonnie Castillo, said that every hospital should have a zero tolerance policy in place to fight workplace violence and should be a healing environment for everyone.
"Hospitals should be a safe, healing, therapeutic environment where everyone…. should have the expectation of personal safety….The Dignity plan is one step. Now all California hospitals should step up to the plate and join us in supporting, not opposing SB 1299," Castillo said.
We are excited to see how this program progresses and if it inspires other health systems around the country to follow suit.