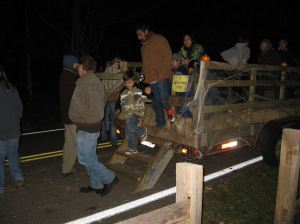 I like Halloween because it's generally a "fake" kind of scary- you can watch scary movies or go to haunted houses but in the back of your mind it's still a little fun because you know you're not really going to be attacked by that guy with the chainsaw.
Unfortunately- one such haunted attraction's scary scenes got too real for one worker. Jeremy McSpadden worked as a zombie at the Incredible Corn Maze in Idaho. They had a Zombie Slayer Paintball Bus that rode through the corn maze full of zombies. The zombie actors would come out and try to attack the bus, and then people on the bus would try to shoot them with paintball guns they had mounted on the bus.
When McSpadden came out of the corn maze and tried to go towards the bus he was caught under one of the back wheels. Some thought it was part of the ride at first, but he was instantly killed. He was 18.
Now investigators are trying to determine whether he was a worker or a volunteer and are hoping to make sure no other workers are exposed to an unsafe site. The workers had been recruited to act as zombies and were told they'd be paid $50 a night for however many nights they worked- receiving the money on a Visa gift card at the end of the season. OSHA is going to try and determine exactly what kind of relationship he had with the corn maze as far as his employment status. The Kootenai County Sheriff's Office said there was no criminal negligence involved, just a tragic accident.
Dave has written a post about these attractions before. And though they may be fun and scary there are real people who work there. It is important to remember that they are facing real dangers too- even danger from participants who might get too scared and go after one of the workers. This is a tragedy and it is a reminder to us all that even at a fun outing it's important to be vigilant.