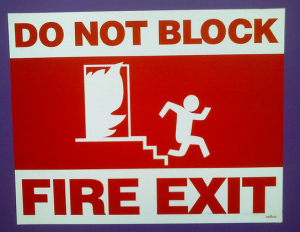 A Honolulu corporation is not waking up in paradise this morning after they finally agreed to pay almost $200,000 in fines and accepted that they need to make safety changes at their refrigerated warehouse. Thankfully the Occupational Safety and Health Administration (OSHA) caught up with them before something happened at this worksite and injured or killed an employee.
In 2013 when OSHA inspected the Unicold Corporation's facility they found that almost all of their emergency exits were blocked or sealed shut, which is just a big no-no in terms of keeping workers safe. If the building had to be evacuated it would be difficult to get all the employees out safely. They also used ammonia, which is allowed, but they were not using it in the regulated way that the state mandates. If it is not used properly ammonia can cause serious damage to the eyes and throat or even death in extreme cases.
The corporation received 63 various violations, most serious and some willful, which they originally contested. Now two years later they are accepting their fines that total $197,000. The legal fees would have outweighed the penalties, according to the vice president and COO Darryl Kawano. They still dispute the investigator's findings and say they took significant measures to improve the facility two years ago when the investigation first came out.
The regional solicitor for the US Department of Labor in San Francisco said that "luck is the only reason we are not investigating a multi-fatality disaster," in a statement released after the corporation agreed to pay fines and make changes. Thankfully nothing happened in the past couple of years and now the site will make changes to ensure the safety of workers in the future.