The De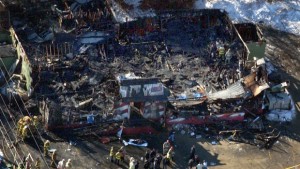 partment of Labor and Training has been objecting, but the Rhode Island Supreme Court has decided to review the $1.07 million dollar fine that was assessed to the owners of the Station Nightclub who failed to carry workers' comp insurance, that in turned caught fire and burned to the ground (picture of the charred nightclub to the left) in 2003 which killed 100 and injured more than 200 other people.
It has been ten years since the horrible incident occurred and a DLT attorney has sent a letter to the Supreme Court urging them to make the brothers pay up the fine as they have been making money since the fire occurred.  The court has decided that the case deserves a second, more in depth look.
The brothers who owned the nightclub say they were mislead into thinking that they did not need to have workers comp coverage because non of the employees who worked there were considered full time employees.  They also showed that another business venture they owned did have comp coverage as they has full time employees.  The coverage would have only cost them $1,891 dollars a year.
A total of four employees perished in the fire in 2003.
The families of the victims all received a share of a $187 million dollar personal injury lawsuit that was settled in district court.  If the brothers are found to have to pay the $1.07 million the money would go to the administration fund that pays for operational costs of the workers' comp system.
I remember this fire when Great White was performing and their manager set off pyrotechnics in a building that was not suitable for pyrotechnics.  The building burned to the ground in just over five minutes.  Great White lost their lead guitarist in the fire.  So many people injured in what is considered the fourth deadliest fire in nightclub history.  This has been an ongoing battle that I hope gets resolved soon.  I am sure it will bring some final closure to all the victims.
Source: Providence Journal