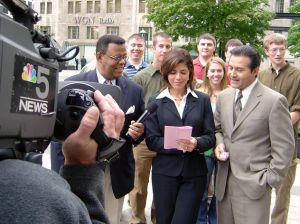 Ever heard of the saying, "If you are not a part of the solution, you are a part of the problem"? Results from a long-term study of how the media is covering the opioid epidemic show that they tend to cover the opioid crisis in this country in criminal terms, rather than using their platform to frame it as a health issue that can be prevented.
In Psychiatric Services, a study from Johns Hopkins researchers outlined how the media frames opioid abuse. They concluded that the media tends to view it as a criminal justice story rather than a public health issue. The researchers looked at news coverage from 1998-2012 and found 673 stories covering opioids. They highlight stories of drug dealers, doctors writing unnecessary prescriptions, and police activity around stopping the illegal activity, mentioning these things in 64 percent of stories. They discussed prevention in 41 percent of stories. The media only talked about expanding treatment options or harm-reduction efforts, like allowing people to seek amnesty from criminal charges if they try to get help for someone who is overdosing, in less than five percent of opioid related coverage. The study also identified four elements of the crisis that when mentioned in the coverage could potentially influence the public opinion about opioids: causes, solutions, or consequences of the problem and individual portraits of opioid abusers. They noted that the media has a powerful influence on public opinion and maybe even policy.
In the later years of the study coverage seemed to focus on medical solutions a little bit more, and talk about law enforcement solutions a little bit less.
Overdose deaths account for too many deaths in this country, over 16,000 in 2013, and the problem shows no sign of slowing down. One of the leads of the study, Emma McGinty, said that people in this country look at drug abuse as "a moral failing" and that attitude can be hard to change. She is hopeful that since the coverage started to shift towards treating it in a medical way in the later years of the study, that positive momentum might continue.
Researchers suggest that the issue be reframed to focus on things like treatment or easier access to treatment, and drug-monitoring programs or other prevention-related stories. Doing so might make the crisis seem more manageable and treatable rather than stigmatize users and make it even harder for them to get help.