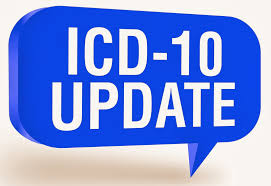 On March 31st the Senate voted on H.R. 4302, the bill passed by a vote of 64-35 just one day before the April 1st implementation of a 24% reimbursement cut to Medicare physicians.  The bill was then sent to President Obama who signed it into law on April 1st.  The bill is to become a patch to fix the Medicare Sustainable Growth Rate (SGR), it will delay the scheduled 24% Medicare reimbursement cut for another 12 months.  Many medical societies have come out against bill H.R. 4302 as it just delays the inevitable instead of coming up with a permanent solution.
Text added to the bill prior to it being received in the House of Representatives stated the following: "The Secretary of Health and Human Services may not, prior to 10/01/15, adopt ICD-10 code sets as the standard for code sets under section 1173© of the 13 Social Security Act (42. U.S.C.1320d-2(c) and section 14 162.1002 of title 45, Code of Federal Regulations."
On Monday, Senate Finance Chairman Ron Wyden introduced S. 2157, which removed the ICD-10 delay from the legislation, leaving the Senate to vote on just the SGR patch.  This was rejected by senators, who voted to approve H.R. 4302 at the end of the day.
The ICD-10 delay is now a byproduct of the SGR patch, if you voted for the patch you voted for the delay, if you voted to keep ICD-10 you would be invoking a 24% Medicare reimbursement cut.  However delaying ICD-10 has its own set of consequences to.
So what does this delay mean for the healthcare arena? Many companies, payers, providers etc. have spent a large amount of money making sure that they are compliant with the new ICD-10 regulations.  They have spent countless dollars and hours training their professionals to be as proficient as possible for the impending change.
At almost every coding school in the country they have stopped teaching ICD-9 and focused solely on ICD-10.  What does this mean to the students who have paid tuition to begin working as a medical coder?  Will these institutions instruct them on ICD-9 for free?  Will they have to pay another round of tuition?  Also how long will it now take them to learn ICD-9 and be out of a job that much longer?  Hopefully they can retain all the knowledge they have learned about ICD-10 for the next year.
Payers have spent huge amounts of money on technology upgrades, training programs for their employees, and new workflows to handle the change from ICD-9 to ICD-10.  The delay now puts a financial strain on many insurance payers.  Will they have to spend money now to undo what they had planned to go live in October?  Will they have to spend the money all over again in another year to implement in 2015?
The United States is still the only country that has not made the switch to ICD-10 and this is the second delay that we will experience in pushing the implementation back again.  What will this do to the healthcare industry as a whole?  ICD-10 was set to be more detailed oriented – leading to better reporting, analytics, cost, and overall procedure and treatment outcome.  The healthcare agencies would have had better insight into conditions, new treatments, complications, locations and causes.  This would have led to better safety protocols, outbreak containments, and overall U.S. population health.  This delay could have implications that will cost the U.S. healthcare organizations, along with insurance companies and taxpayers billions of dollars.
I feel that ICD-10 would have given better insight into potential fraud and abuse in the workers compensation field by being so specific into the body part or cause of the disease or condition, along with the severity level and any new treatments out there.  As we all know healthcare is constantly evolving with new treatments and procedures and this offered a better opportunity for them to be recognized and applied.
Many questions remain in the balance as to what this impact will have on healthcare and the workers compensation industries.  I personally find it shameful and rather absurd that right before this bill was about to be voted on the ICD-10 text was added in and turned the bill into a package "deal or no deal".  It will be interesting to see how this affects payers and such in the coming months and how much backlash the government catches from the healthcare organizations as a result of the ICD-10 delay.