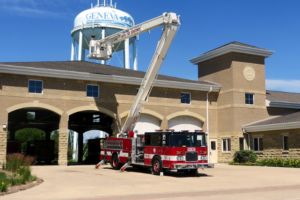 A worker in Geneva, Illinois died last Friday while trying to install a sign in the tower of a shopping center, Geneva Commons. The Occupational Safety and Health Administration (OSHA) has opened an investigation into his death.
Emergency responders who were called to the scene found two workers at the top of the tower. One was conscious and able to come down with assistance; the other was unconscious and unresponsive and was later pronounced dead by paramedics on the scene.
An initial autopsy report indicated that Donald J. Tentler died as a result of "compressional asphyxia due to mechanical compression of the neck". It was later revealed that he was pinned against the wall of the tower by the lifting device and suffocated, and Kane County Coroner Rob Russell ruled the death accidental. The lab is still awaiting toxicology results.
Tentler had worked for the company Identity Services since 2013. They are an installation, maintenance and manufacturing company.