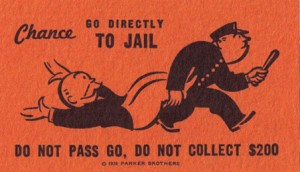 Andrew Boron of the Illinois Department of Insurance (DOI) announced that they have completed an investigation that has resulted in a conviction and sentencing of a central Illinois man who will be sent to prison for eight and half years for trying to obtain $45K in workers comp benefits by defrauding the system.  Elbert Rayford Jr. exaggerated his medical conditions and symptoms in order to receive more medical attention and remain out of work on temporary total disability long after it was necessary.
The DOI conducted an investigation and recorded video that showed Rayford engaging in activities the proved he was lying about his medical condition.  The McLean County Attorney's Office prosecuted on this case and hopes that the long sentence will prove as a deterrent for any persons who are thinking about committing this type of fraud.
This is the longest jail sentence that has ever been handed down for a violation of the anti-fraud provisons in the Workers Compensation Act.  The provisions were amended in 2011 which made the penalty for committing fraud much stiffer to which Rayford is feeling the effects of.  He will also pay $585.38 in restitution and be on supervised release for 2 years when he is let out of prison.
We report on many fraud cases here at WCInsights and have seen many different penalties evoked  on violators of the law.  This is by far the stiffest penalty that I have seen handed down.  If this is not a deterrent to not commit fraud and get back to work then I do not know what is.  I am sure that he just thought he could get more money never that he would be spending close to a decade in prison.  Let this be a lesson learned to all.  Do not deceive people out of money-especially the government.
Source: IGNN