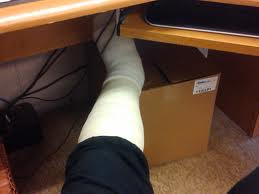 If your company does not have a return to work program in place for your hurt workers, you might only be hurting yourself. These kinds of programs get workers back into "the swing of things" and may prevent struggles with depression or addiction for those that are left at home too long. Depression is a taboo subject but it is a growing problem amongst workers, especially those that have been injured.
Depression is tricky because it is a diagnosis that is considered "embarrassing" by some people and they will not go get it checked out, or they worry about disclosing their status to their employer for fear it might affect their job status. The Center for Disease Control and Prevention reports that it is the most prevalent mental health problem among older adults. It contributes to workplace disability, absenteeism, presenteeism (you might be at work physically but are you there mentally?) and productivity loss. It also may intensify symptoms of other diseases or injuries.
Your worker is already injured and stays at home rather than going into work to perform some sort of light duty. That seems like a recipe for them to take more time than they actually need or slip into a cycle of indifference and not want to come back to work at all. As time goes on, an employee's chance of coming back to work decreases. Many employers have their reasons for not having a program in place, but many of their worried claims for why they do not want to implement a program are unfounded. Check out the The Florida Partnership for Safety and Health's "Guide for Creating a Return-to-Work Program" for a thorough outline of how your company can undertake a new program.
The Partnership for Workplace Mental Health lists depression as the fifth most common cause of disability claims. They estimate depressed workers cost employers $44 billion a year in lost productivity.
Light work is a great way to let employees heal their injuries while getting something done. They can keep working and other employees won't feel the strain of their absence. Rather than staying at home alone and not being very productive, they can do something beneficial for themselves and the company and interact with their peers again.