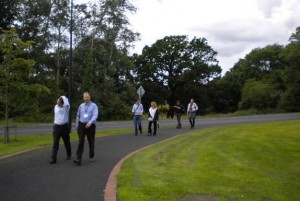 It's probably safe to say that employers generally want their employees to stay active and to try to be as healthy as they can. There is a lot of evidence that points to happier workers and reduced healthcare costs for workers who are more active. When it comes to recovering from work injuries, maybe being a fit person in general could help reduce recovery time for the injury. A lot of workers these days are using their lunch breaks to sneak in a quick walk around the office park or do some other sort of physical activity. Most of these people do not clock in or out during their lunch break. It's just part of the workday routine for them.
One woman in North Carolina was walking around her office building on her lunch when she injured her knee. What does that mean for workers' comp purposes?
Cynthia Mintz worked for Verizon Wireless and, on her required yet unpaid lunch breaks she would walk the halls of the first floor of her building. As she was returning to her desk one day she slipped and fell, suffering a knee contusion. She had knee problems before and was taking steroid injections and medications because of her knee already. Now a doctor found that the fall had really aggravated her condition, and her injury was deemed compensable.
Her employer appealed, yet the courts explained that since the public was not a public building and she would not have been in there without her job, her injury was a condition of her job. Verizon also said she was on an unpaid lunch break; however the courts denied them again by pointing out that it was a required break. Verizon argued another point- that they did not own the building in which the accident took place. The court pointed out that since all of the businesses within the building were either Verizon or there to support the Verizon employees, the area where the injury took place was under the employer's control. The court also noted that the activities of employees, when taken for personal comfort (necessary for their own health and comfort), are part of the workplace environment as well. If it is an activity that might benefit the employer, it can be considered a personal comfort activity. Mintz was a customer service representative and the court said her exercise made her a more pleasant worker, important for a customer service rep. Since her walks were for her own personal comfort at her job that also made the injury job-related and compensable.
This is an interesting comp case that defines "personal comfort" a little better. Even though the employer did not own the building and the worker was not being paid at the time of the injury, she was still eligible for compensation. Especially in these pleasant summer months, workers are using their breaks more and more to be a little more active. Employers should think about what the consequences of that might be and take steps to make sure their employees are as safe as possible.