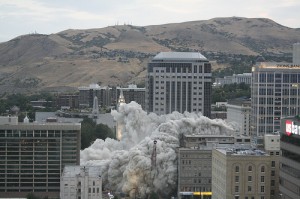 An investigation is now underway at site of the Omaha, NE plant accident that left two dead and 10 others injured. The U.S. Occupational Safety and Health Administration (OSHA) is looking into the incident to determine what went wrong at the International Nutrition plant, which makes nutritional products for livestock feed.
The third floor and the roof of the building collapsed onto the second floor. The floors collapsed at the same time, so workers had little warning and were lucky to escape said Battalion Chief Brad Thavenet, who was a rescuer on the scene. There were 38 workers in the building at the time of the accident.
"The building looked as if it had been ravaged by an earthquake," said Thavenet.
He said the rescue crew was advised by an on-site structural engineer who determined which areas were safe to walk around on, which was crucial to the rescue process.
Witnesses report hearing a loud sound and, as of now, there are two different theories as to what might have happened. Some suggest the collapse happened first and was the cause of the sound and the fire. Others say the explosion came first and may have been caused by combustible dust that was left over after production. That would have led to structural supports melting in the fire and the resulting collapse of the floors in the plant.
The OSHA inspectors will try to determine what happened but said it might take up to six months, citing the complexity of the accident. They will be looking for any safety violations, like structural hazards, protective equipment violations or grain handling hazards, which may have contributed to the accident.
Combustible dust comes from industrial processes, and in confined spaces has the potential to catch fire and explode. It exists in a lot of different production industries and is scary because it's not really regulated or standardized. We will wait and see what the investigators conclude but if the cause was combustible dust, maybe this will be the final straw that spurs lawmakers to react.
The company president, Steven J. Silver, wrote a response to the situation.
"In our more than 35 years of doing business, this is the most serious incident to ever happen at our operation, and we are fully cooperating with all government investigators to find the cause," Mr. Silver said in his statement. "In the coming days we will assess the damage and explore alternate methods of meeting our customers' needs. In the meantime, our focus remains on the well-being of employees and the search for the cause of this terrible accident."
The superintendent of building and development in Omaha, Jay Davis, said the structure will likely be razed as the damage is too much to repair. International Nutrition has had prior violations, as recently as November 2011 when they were found to have six serious workplace violations and paid $19,000 in fines.