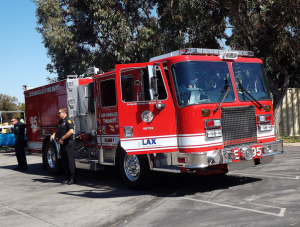 After an audit last week by the Los Angeles City Controller Ron Galperin, Los Angeles might want to take a closer look at how they handle their police and fire department comp claims. The reports state that over the last five years, comp costs grew up 35 percent.
Last year, the police and fire departments paid out a little over $140 million in workers' comp claims. Maybe that is due to higher healthcare costs, rising wages, aging workers or some other causes. In the past three years roughly two-thirds of firefighters and police officers filed at least one claim. These two departments made up the majority of the city's workers comp claims at about 60 percent, though they do probably have a riskier day job than the desk workers in the city.
What is troubling is that so many within the department seem to be submitting preventable claims. Things like sprains from exercise, slip and falls, improper food preparation, etc. The audit found that injuries associated with sports like basketball and handball made up 13 percent of LAFD claims, and 3.5 percent of LAPD claims. In total that amounted to almost $2 million in claims costs for the city.
Galperin said he recognizes the need for firefighters and officers to be in good shape to do their job, but he recommends they think about other physical activities that may have a lower risk of injury. Besides that he also thinks that departments might install some "best practices" for things like monitoring injured workers and making sure they stay on the track to recovery, promoting health and wellness and reporting data more often to the city.
Galperin estimates that the departments could collectively reduce costs by $28 million a year if they make some changes. Although department officials agreed to look into it they did stress that the results of the audit shouldn't make people jump to conclusions just yet. The fire chief says he encourages his workers to file claims if they feel a little bit of pain, but sometimes the pain goes away after a few days and that claim is dropped and never paid out. Both departments stressed that their employees did not miss many days of work, though they may file claims.
In anonymous surveys sent to LAFD and LAPD employees though, it seems that workers think their co-workers might be filing unnecessary or debatable claims. A third of responses said they thought their co-workers filed questionable claims and just under half thought there were an excessive number of claims being filed.