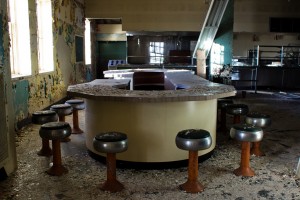 As dangerous as we think the world outside it (take it from someone whose mother watches WAY too much CSI), something that should never be questioned is one's safety at work. Recently, a whole lot of workers and contractors who were employed by Olivet Management LLC got notice that they had been exposed to hazardous asbestos and lead conditions while they were working for the group. Not exactly the kind of talk you want to hear around the water cooler.
The Occupational Safety and Health Administration has doled out $2,359,000 in fines to the Dover Plains, NY company. Yes there are three zeroes there. They were cited for exposing not only their employees but the employees of 13 contractors to dangerous asbestos and lead while they were all working towards cleaning up the site, the former Harlem Valley Psychiatric Center, for a walk-through by possible investors.
The Secretary of Labor, Thomas Perez, said that the company knew about the hazards yet ignored them and put their workers and their families in harm's way. The OSHA inspection found that workers were removing asbestos and lead corrupted waste, debris, insulation and paint from the facility. The company failed to inform employees or contractors about the hazards even though they knew about it, and they did not take any safety precautions as a result of that knowledge. There was no monitoring of asbestos or lead levels, no protective gear or warning signs, no training, and no way for workers to clean off before they went home to their families.
They received 45 willful citations, meaning it was committed voluntarily and apparently without any regard to safety or established laws. They were also given a serious citation for not informing the waste removal folks about the presence of asbestos which means it may not have been disposed of correctly.
You can view all of the official citations here.
I have heard the argument that some fines issued are not enough to deter companies from acting in such a way as this. Hopefully the $2.3 million dollar tab that Olivet just ran up will serve as a substantial reminder that if workers' safety is not taken into account, or just ignored altogether, a company will be punished.