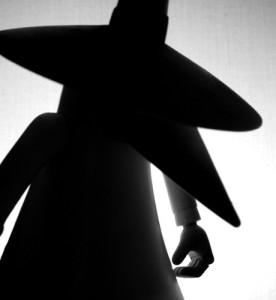 I came across this profile story and I thought it highly applicable to our sometimes weekly event, Fraud Friday.
There is a report published by the Association of Certified Fraud Examiners that identifies some qualities of your "typical fraudster". The problem is that they are typical traits, which is the scary thing about occupational fraud. Yes there are some characteristics that apply to fraudsters but these kinds of things also apply to average law-abiding employees. I'm not writing this post to encourage you to go around and point fingers at the go-getters or workaholics in your office. That guy who took five cookies from the plate of cookies in the office kitchen though….
Interestingly, the people that go above and beyond and hardly ever take a day off are more likely to commit fraud against employers. While you might think it would be the employee who went to the bathroom as the big assignments were being handed out, it is typically a hard-worker who has something to prove.
Mark Lowers, president of the international risk management firm Lowers & Associates says they are typically male. 85 percent of people who commit occupational fraud are males between 30 and 45. High performing, tenured people who have been with the organization for a long time.
Only six percent of known fraudsters had been convicted of a prior offense so that means most have a clean record. Although to be fair if they had a criminal past they likely wouldn't be hired in the first place so that might poke a hole in that statistic. They are also well respected amongst their peers and usually in a position of power. A quarter of fraudsters are in a senior management position.  The more senior the fraudster, the more costly the damage to the company and the longer the fraud took to detect. The most common kinds of fraud committed at the executive level were corruption, billing or expense reimbursement schemes.
The Association of Certified Fraud Examiners claims that up to 5 percent of the average corporation's revenue is lost to fraud each year. That might not sound like much but spread that over the world's economy and it could amount to over $3.5 trillion dollars. They found that the average loss to an organization was $140,000, but over a fifth of frauds involved in their study cost the company over $1 million. Fraud, and more costly fraud, is on the rise too, says president of the fidelity and crime division at Great American Insurance Co. Frank Scheckton. He says what might have been considered a large loss 10 years ago would have been around a million dollars. Today that figure is more like $10 million.
The ACFE says that there are a few warning signs of intent to de-fraud or true fraud. Employees who live well beyond their means or who are experiencing financial problems may turn to fraud to make up for these shortcomings. They might have control issues and not want to share certain duties (to make it easier to cover up their tracks) or they might develop a suspicious attitude.
Lowers says opportunity, incentive and attitude are three big factors that can contribute to employee fraud. Work environments where there is a lack of managerial review or adequate audits are prime environments for fraud. The report also says that companies that have downsized may have also downsized their purchasing or accounting divisions to just one person, leaving the company more susceptible to fraud.
As I said before, this report wasn't meant to incite a witch-hunt or create unwarranted hostility at your organization. But it looks like fraud is increasing and could be a costly blow to your business, so it should be something to keep in mind.
ACFE's report consists of surveys of 1,338 Certified Fraud Examiners who investigated cases from January of 2010 until December of 2011 and can be viewed at www.ACFE.com/RTTN.