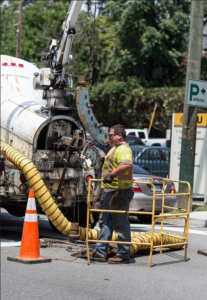 A Michigan-based company with offices in Florida has been cited by the Occupational Safety and Health Administration (OSHA) for a fatal incident in Florida that led to the deaths of three workers.
One worker entered the manhole at the site they were working at in Key Largo, FL. He became unresponsive and another worker went in after him. Then another worker followed when he did not come back up. All three men died, and there were lethal levels of hydrogen sulfide and carbon monoxide in the space. Two more employees and a volunteer firefighter were exposed to the gases when they tried to rescue the men but they survived. One of the surviving employees went in wearing breathing equipment to rescue Leo Moreno, a volunteer firefighter who went in after the third worker was unresponsive. Mr. Moreno was in an induced coma for a week and took months to recover from the incident. He had tried to go in initially with no breathing safety equipment.
The company Douglas N. Higgins Inc. (D.N. Higgins) and the subcontractor McKenna Contracting, LLC, received ten serious violations and fines totaling $119,507 after the OSHA investigation.
They received serious violations for failing to have safety data sheets on site for every hazardous chemical used at the site. They failed to provide employees with information and training on the hazardous chemicals at their worksite. They failed to guard the openings to manholes when the entrance covers were removed with anything like a guardrail that would prevent a worker from accidentally falling through. They also failed to utilize vehicle barriers around the site which exposed workers in and around the manhole to struck-by hazards. They failed to use a calibrated direct-reading device to test for toxic fumes or gases before allowing workers to enter the confined space, and failed to evaluate the potential hazards of the confined space before allowing employees in. They did not have a procedure in place to properly ventilate the confined space before entry, exposing employees to an asphyxiation hazard. They failed to provide adequate testing, monitoring, and safe entry and rescue equipment to make sure the confined space was safe and that workers could get out quickly if necessary. They did not have a procedure in place to contact emergency services or provide emergency services in the event that a rescue was required. They did not prepare and document a confined space entry permit for this particular job, and failed to keep records of cancelled entry permits for at least one year so that they could be reviewed if necessary.
All of these violations unfortunately resulted in the death of three workers. Had the proper steps been taken maybe they would not have been exposed to the toxic chemical gases in the first place.
Read the OSHA release here.